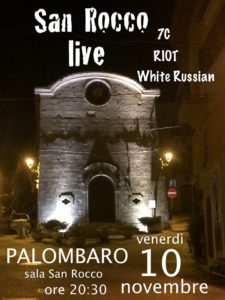 This Friday, November 10th, IO !, INVIZIN and DeAmbula Records cordially invite you to San Rocco live.
San Rocco is a former church used as a theater, at times transformed into a stage
where you can listen to great independent original and also unusual music ….
The community will provide a small buffet with various food and drinks for everyone to freely contribute and consume.
Admission is by donation, which will go entirely to the groups that perform.
This is also a form of self-financing for the performing groups, and your contribution you can help them directly.
The groups that will perform are:
7C (IT), electro, jazzcore, noise, math rock.
RIOT (USA, IT), math noise.
White Russian (IT), free noise
Doors open at 20:30. Don't miss it!