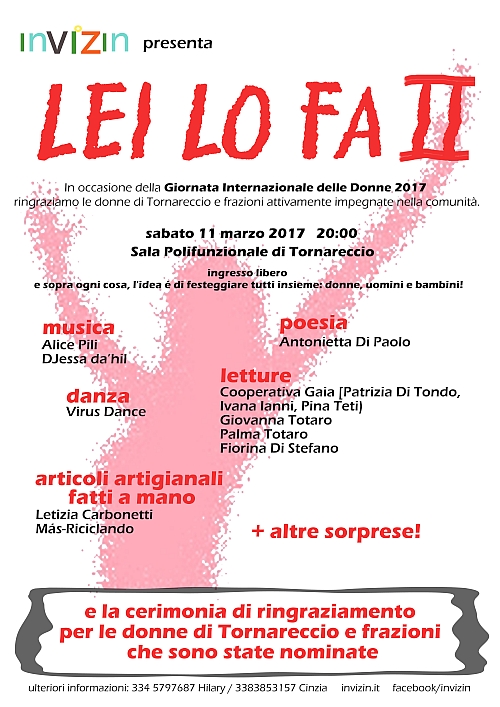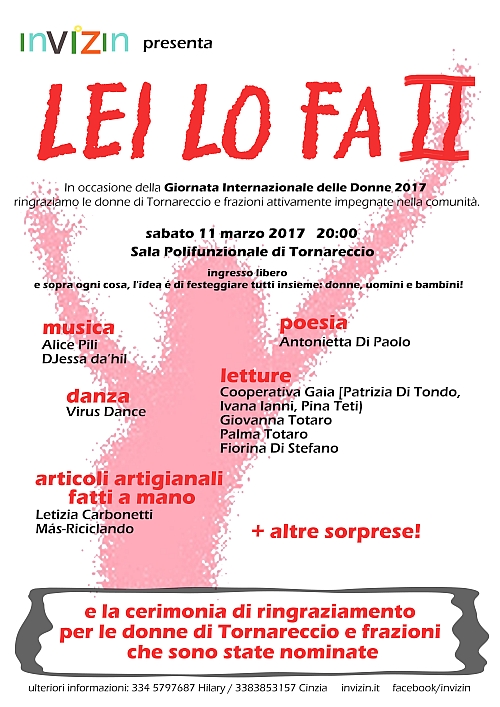 INVIZIN presents LEI LO FA II
Celebrating the women in and around Tornareccio
Saturday, March 11  2017  20:00
Sala Polifunzionale di Tornareccio [CH]
In honor of International Women's Day 2017, we are thanking the women active in the community in and around Tornareccio.
We will celebrate with music, theater, art, food crafts, and a thanking ceremony.
Entrance is free for all .
In order to raise awareness and increase the visibility of women in Tornareccio, Lei Lo Fa II aims to spark a dialogue about the roles of women, and also to create a network of women active in the community.
The selection of women to be recognized in the thanking ceremony is made according to "nominations" made spontaneously and voluntarily by Tornareccio residents. Each woman nominated will be accepted and will be part of the thanking ceremony.

Above all, we will celebrate together: women, men and children!
Lei Lo Fa II 2017 program
– welcome
–  the origins of International Women's Day / Cooperativa GAIA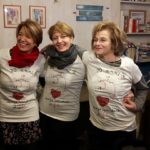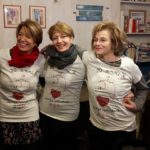 The cooperative Gaia, which has been operating for over 14 years in the area, carries out new forms of environmental disclosures and cultural promotion, linking various aspects of education, tourism and food culture with a  view on environmental sustainability. GAIA operates within the Archaeological Park of Monte Pallano, for which it manages tours of the Comunità Montana Medio Sangro for schools, cultural centers, libraries and other designated groups.
Active tour experience with…
Involving youth, schools, associations, groups interested in environmental protection, as well as cultural, historical, natural and landscape crises;
ARRANGING discovery and educational tours;
CREATING opportunities to meet and socialize around issues of the defense of cultural identity and heritage through exhibitions, workshops, debates and projections;
COLLABORATING with with local authorities and other organizations in the area operating in the fields of the use, development and protection of the territory.
– dance /  Virus Dance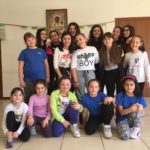 The Virus Dance Club was founded in Atessa in 2000, initially as a school of social and group dance. Over the years, it became are more and more specialized in the field of hip-hop and today is one of the most referenced schools in Abruzzo. The school's crew participates in national  and international hip hop competitions, in recent years receiving much praise, scholarships and awards. Every year the kids in the school have the opportunity to work with world-renowned choreographers and well-known dancers from television. This allows even kids from a small company to become passionate, to form and to grow. For two years, the school also operates in Tornareccio, and the teachers Serena and Teresa, are very proud of the feedback from the girls. They are all spirited and willing, and this is certainly the right spirit.
– reading/ Giovanna Totaro & Maria Carmela Crapa
– fashion show – hand-made jewelry / Más-Riciclando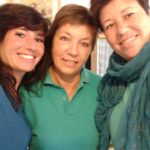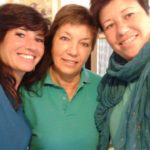 Recycling with a pinch of imagination
Mas is the acronym of the creators of these jewels, but it also means "more" …. more ideas, the more graceful idea, the most imaginative idea …
– poetry / Antonietta Di Paolo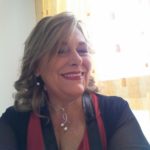 (Cellole – CE, 13/12/ 1975) "The early years of my childhood I live with the separations between my father and my relatives. All this makes me a reserved and sensitive woman. In adolescence I begin to put my thoughts on paper , moved by the compulsive need to release my emotions. Now the wife of the man that I have always loved and a full-time mom for Patty, Alfredo and Ginevra Maria."
– music / Alice Pili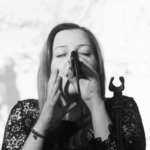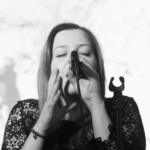 Alice Pili was born in Atessa on 19/08/1997, started playing the piano in 2006 and became part of the association "Amici della Banda" in 2009, playing the alto saxophone. The first experiences in singing begin at age 12, when she joined the church choir at the church in Tornareccio, then started studying light singing at the academy Ars Antiqua of Atessa. After a few years she began to work with various musicians and groups, exploring different musical genres, from rock to jazz to bossa nova and pop music, as well as performing on various occasions.
– reading / Fiorina Di Stefano
– introduction of the art and artists in the exhibition
– theatrical reading / Antonietta Di Paolo, Valentina Fioriti and Palma Totaro
– music / members of the Coro Contrappunto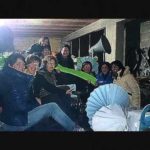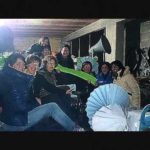 "Coro contrappunto" of Tornareccio (CH) directed by Maestra Anna Antonini
– reading / Mariella Tieri
– introduction to the ceremony
– ceremony
– music /  DJ da'hil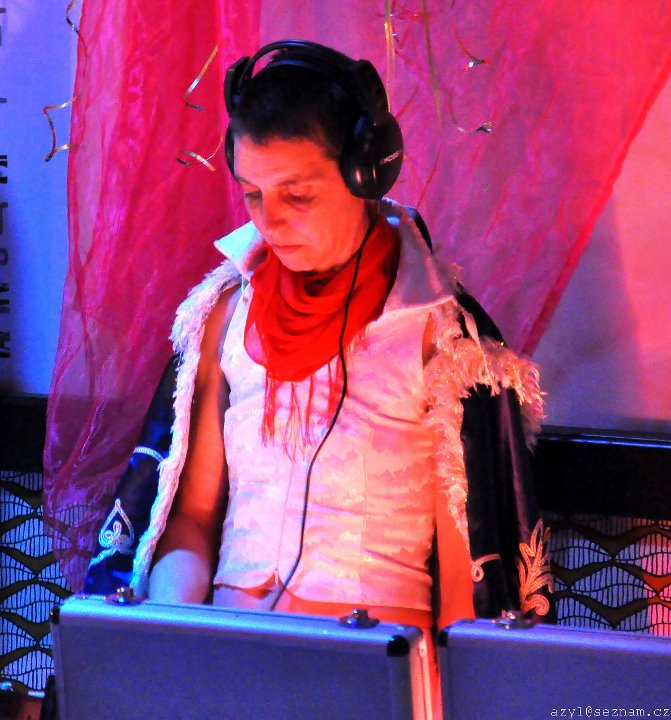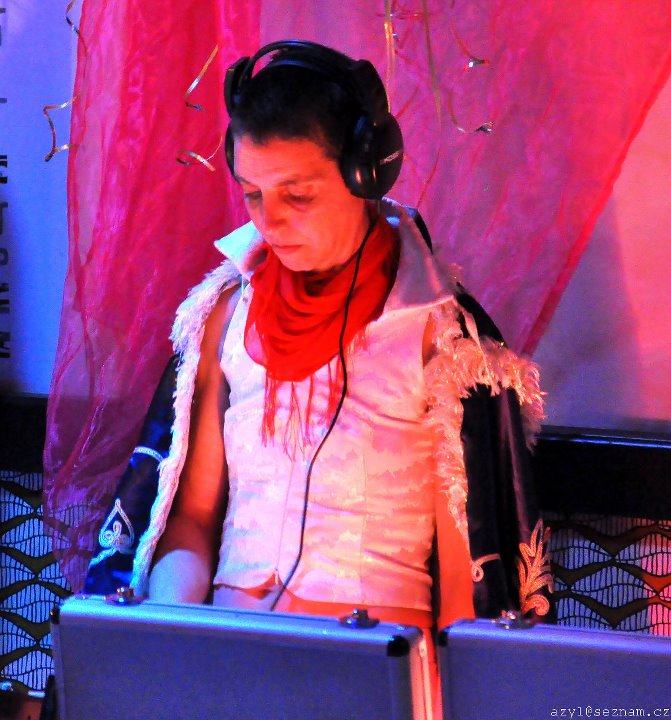 additionally:
exhibition / Letizia Carbonetti, Giuseppina Paglione, and Anonymous
tables full with BYO food and beverages